The Annotated Wacky Packages All-New Series 1
Base Set Cards
05. Sludge Shoppe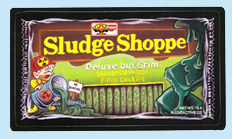 May 2004
Keebler Fudge Shoppe cookies
Art Stages

Rough Concept Drawing #1
The basic elements of Jay Lynch's "Sludge Shoppe" gag were carried through to the final painting. However, the first rough differs in that it shows the elf character dumping the nuclear waste on a cookie, and the tag line in the lower right is "Net Wt. 2.5 Toxic Lbs."
(thumbnail links to wackypackages.org)

Rough Concept Drawing #2
The more detailed second rough refines the concept; now the elf is empties the barrel of waste into a body of water next to a "No Dumping" sign. The tag line has been changed to "Net Wt. 10.6 Radioactive Oz." (As also seen in the previous rough, the nuclear symbol on the elf's hardhat contains four triangles, when it should have only three. This is corrected in the final painting.)
(thumbnail links to wackypackages.org)
Final Painting
Strephon Taylor painted the elf character to more closely resemble Ernie, the Keebler mascot, than Lynch's roughs indicated (though the addition of stubble and a cigar help to prevent the resemblance from being too close). The "Feebler" logo is unfinished on the final painting, suggesting that it was completed during the production process. Also, the "Net Wt." tag line is not present on the art; digital lettering was used to add it during production.

The Topps Vault sold the finished art for "Sludge Shoppe" for $608.00 in an eBay auction which ran from June 21-28, 2004.
Printed Sticker
Card Front & Back
On the back is "Poundco's Gum-Flappin' Gina Doll," coupon #11 of 20. The John Pound art for this coupon was left over from the aborted 1992 series.