This page is an attempt to document an obscure corner of Wacky Packages lore: an entire series of stickers that was left unpublished in 1992.
For information on the stickers you remember from the '70s and '80s, visit the most comprehensive resource on all things Wacky: Greg Grant's Wacky Packages Web Site.
Go to LostWackys.com, the "Home for Orphaned & Unpublished Wacky Packages", for more information on unreleased parody cards and stickers, and for up-to-the-minute news on Topps' latest Wacky offerings.
(05/18/08) - Two 1992-era titles, Sea Honkies and Granny Hairs, were finally published: as bonus sticker inserts in a new Wacky Packages hardcover book.
(2007) - A number of previously-unseen 1992 parodies by Pat Piggot surfaced in a fan-produced set of Lost Wackys stickers. Titles include "Chia Punk", "CarpiSun", "Spleen Beat", and "Barfie."
Following a 6-year period in which the irreverent Wacky Packages brand had lain dormant, The Topps Company released an all-new series of product parody stickers in 1991. The set contained 55 titles, including spoofs of Pez candy ("Prez"), Dunkin' Donuts ("Drunken Donuts"), and Domino's Pizza ("Donkey Nose Pizza").
The '91 series received at least two printings in the United States, as well as a run by Topps' Canadian licensee O-Pee-Chee in 1992.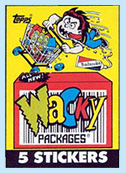 But Topps did not release a follow-up set, and several reasons have been advanced for this. The Wacky Packages Gallery claims that the 1991 Wacky series was eclipsed by the popularity of Topps' own Desert Storm cards that year. According to series editor Mark Newgarden in a 2002 interview, "the legal atmosphere was a little too dicey for them to keep doing that stuff. But it was mostly distribution," that spelled the end of Wacky Packages in the 1990s.
During the making of the '91 set, Topps had planned to release perhaps as many as two further series. But as artist John Pound reports on his web site, "Another Wacky Packages series scheduled for 1992 was nearly completed, when Topps halted production in mid-1991." With the cancellation of the 1992 series, the titles that were finished and in-progress at the time became what are known in collecting circles as "Lost Wackys".
The Wacky Packages Art section of John Pound's web site, which for some time was the principal source for information on the unpublished '90s Wackys, contains a list of abandoned titles that Pound worked on and scans of his pencil art for some of them.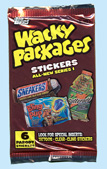 Topps mined 13 titles that were intended for the 1990s sets for Wacky Packages All-New Series 1 (ANS1), released in May 2004. Another title became a bonus card in All-New Series 2 in 2005. Whether any of the remaining unpublished titles from the '90s will see the light of day in future series is uncertain. Some of the products that they lampooned no longer exist, or the packaging is now too different to be recognizable; others may not meet Topps' standards of what is appropriate for today's school-age children, the intended primary audience for their trading card sets.
Collectors have obtained copies of the art for some of the unused 1990s titles. It is possible that more of the unpublished '90s Wacky art will surface as Topps conducts further eBay auctions from its archives. Some of the work is still quite funny, and deserves to be rescued from obscurity.
Tom Bunk painted 19 Wacky Packages card fronts and 21 coupon backs for the 1991 series. He painted at least 18 pieces for the 1992 set prior to its cancellation. Six of his unused '90s paintings eventually appeared in ANS1.
Jay Lynch wrote gags, drew rough sketches, and provided final art for many series of Wacky Packages, from the 1970s through the current All-New Series.
Mark Newgarden was the editor and one of the writers of the 1985 and 1990s-era Wacky Packages sets.
John Pound painted Wacky Packages for the 1985 and 1991 series and worked on at least twenty potential titles for the cancelled 1990s series, seven of which were finally published in 2004.
Frank Santopadre wrote gags for Topps in the '90s and has contributed to the All-New series of Wacky Packages and Garbage Pail Kids.
It is likely that the Lost 1992 Series would have included 55 stickers, as in the previous year's set. It is not known how many were developed before the series was abandoned, but the titles in the drop-down list below were all potential '92 stickers.
Some of John Pound's pencil drawings include notes in the margins that indicate the month and year in which they were drawn (such as "1-91") and—it is assumed—the order in which he drew them ("JP1", "JP2", etc.). Where this information is available, the titles have been organized accordingly.
Held back from the 1991 set, the following titles could have appeared in the Lost 1992 Series:
Tom Bunk painted at least 18 titles for the unreleased 1992 series:
The following titles are of 1990s vintage, but are not as well-documented as some of the titles above.