The Annotated Wacky Packages All-New Series 2
Base Set Cards
02. Durasmell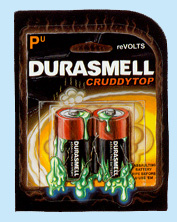 March 2005
Duracell batteries
Duracell batteries were first parodied as "Dirty Cell" in 1976/77's 16th series of Wacky Packages.
Art Stages

Final Painting
On the final painting, in the lower right of the battery package, the phrase "Assault & battery" can be seen. This appears as "Assaulting battery" on the printed sticker.

The Topps Vault sold the finished art for "Durasmell" for $710.00 in an eBay auction which ran from August 4-11, 2005.
Printed Sticker

Card Front & Back
"Startrash.com," a parody of Startrek.com, is found on the back of "Durasmell."