The Annotated Wacky Packages All-New Series 2
Base Set Cards
08. Tired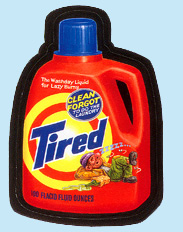 March 2005
Tide liquid detergent
July 2004
Art Stages
Rough Concept Drawing
Jay Lynch's rough provided a solid foundation for John Pound's final painting; only miniscule changes were made. Even the misspelling of "flaccid" carried through to the final.
(The thumbnail above links to a scan of the rough at wackypackages.org)
Printed Stickers

Card Front & Back
The Top Left (TL) piece of the "Buzzooka" puzzle is found on the back of "Tired."


Chase Card Version
Tattoo # 1 of 10