The Annotated Wacky Packages All-New Series 2
Base Set Cards
27. Alberto's BO5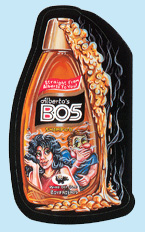 March 2005
David Gross
David Gross










Art Stages

Rough Concept Drawing #1
David Gross's take on Alberto V05 shampoo evolved from a simpler initial rough to a more complex final piece. On their first review of the rough, Topps editors did not like the male character, who in this version holds his nose, and is rendered in a slightly more realistic cartoon style.
Rough Concept Drawing #2
For his second pass, Gross made the male character more comical and changed his reaction to queasiness. He also added more visual elements, such as the avalanche of foul shampoo flowing from the cap, flies around the woman's hair, and a small emblem of a skunk with a clothespin on its nose (an homage to 1973's Vile Soap sticker). He also changed the line "Right from Alberto to you" to read "Straight from Alberto to you" and added the tag "Ward off old boyfriends!"
Final Painting
The finished art is a faithful translation of the second rough drawing.
The Topps Vault sold the finished art for "Alberto's BO5" for $1,461.00 in an eBay auction which ran from November 20-27, 2005.
Printed Sticker


Card Front & Back
The Middle Left (ML) piece of the "Count Funkula" puzzle is found on the back of "Alberto's BO5." piece.