The Annotated Wacky Packages All-New Series 2
Base Set Cards
11. Count Funkula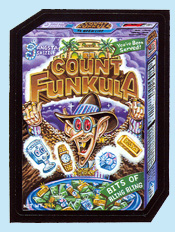 March 2005
David Gross
David Gross
"Count Funkula" was one of 16 titles that were shown as previews for All-New Series 2 at the San Diego Comic-Con from July 22-25, 2004.
Art Stages

Alternate Rough Concept
David Gross's original take on Count Chocula, "Count Chokeula," was rejected by Topps.


Rough Concept Drawing
In Gross's original "Funkula" rough, the word "pimp" appeared on the pimp cup (the first bit of bling on the left).
Final Painting
Gross added the line "NET WT 24k", and after Topps objected to the word "pimp," he changed the text on the cup icon to read "O.G." (Original Gangsta) for the finished art.
Printed Sticker
Card Front & Back
The Middle Left (ML) piece of the "Buzzooka" puzzle is found on the back of "Count Funkula."