The Annotated Wacky Packages All-New Series 2
Base Set Cards
48. Ghoul Whip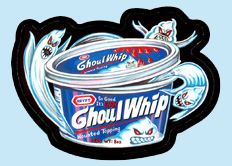 March 2005
David Gross
April 2004
David Gross
May 2004
"Ghoul Whip" was one of 16 titles that were shown as previews for All-New Series 2 at the San Diego Comic-Con from July 22-25, 2004.

"Ghoul Whip" was also one of the 3 titles (along with "Fool Iced Tea" and "Buzzooka") that represented ANS2 on the series' display boxes and wrappers. It also appeared in promotional items such as brochures and sell sheets, and was featured on the cover of the Collector's Album.
Art Stages

Rough Concept Drawing
The composition of David Gross's "Ghoul Whip" rough sketch is the same as the eventual painting. However, at this stage "BOO!" takes the place of the KRAFT logo, and much of the piece's wordplay has yet to be added.

Final Painting (Before Revision)
In his first pass on the "Ghoul Whip" painting, Gross replaced the "BOO!" logo with "KRYPT", a closer approximation of KRAFT. Topps consulting editor Len Brown reviewed the piece and suggested adding a man in a coffin on the lid of the product. Gross pointed out that the imagery had already been used on "Mr. Coffin" in ANS1, so that idea was dropped. Brown also recommended including more jokes.

Final Painting (Revised)
Gross revised the final painting to add the lines "So Good It's Scary" and "DEAD WT: 8oz."

The Topps Vault sold the finished art for "Ghoul Whip" for $2,950.00 in an eBay auction which ran from October 16 - 23, 2005.
Printed Sticker
Card Front & Back
"i Ruins," a take-off on the Apple's iTunes Music Store, is found on the back of "Ghoul Whip."