The Annotated Wacky Packages All-New Series 2
Base Set Cards
55. Cheapos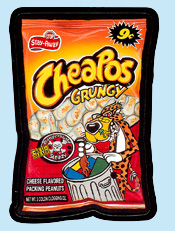 March 2005
Cheetos Crunchy snack bag
Art Stages
Final Painting
The Topps Vault sold the finished art for "Cheapos" for $1678.53 in an eBay auction which ran from August 17-24, 2005.
Printed Stickers

Card Front & Back
"Gyp," a parody of the Gap web site, is found on the back of "Cheapos."

Chase Card Version
Tattoo # 9 of 10
Connections
Package Parodies Sticker:
"Cheatos"
A spoof of Cheetos Crunchy appeared in New Hamm's Package Parodies, a Wacky-like set of die-cut sticker cards released in 2000.
Topps Online Store Postcard:
"Cheatas"
In 2008, Topps produced another parody of Cheetos (with a theme similar to that of the Package Parodies entry) in its second series of Wacky Packages Postcards, sold through the Topps Online Store.