The Annotated Wacky Packages All-New Series 2
Bonus Cards
B3. Easy-Burn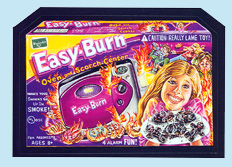 July 2005
David Gross
David Gross
November 2004
The parody name for Hasbro, "Hasbroken," previously appeared on the title "GI Toe" in 1974's 9th series of Wacky Packages.
Art Stages
Rough Concept Drawing
David Gross's first concept for his take-off on the perennial girl's toy was called "Queasy-Bake." At that stage, the girl on the box was portrayed as evil, feeding the foul products of the oven to her friends.

Final Painting
Gross had gotten as far as painting the "Queasy-Bake" package logos when he and Topps learned that Hasbro makes a real toy aimed at boys under that name. Because Gross had to re-do the logos, "Easy-Burn" was turned in too late to be included in the ANS2 base set, and instead Topps published it as Bonus sticker B3.

By the final painting, Gross had changed the malicious girl on the box to one who is oblivious about the danger of the oven.

The Topps Vault sold the finished art for "Easy Burn" for $3,150.01 in an eBay auction which ran from October 20-27, 2005.
Printed Sticker

Card Front & Back
The "Easy-Burn" sticker was found exclusively in Bonus Boxes of ANS2 that were sold in retail outlets serviced by card distributor Excell, such as Target and Shopko.