The Annotated Wacky Packages All-New Series 2
Base Set Cards
20. Krusty Krumbs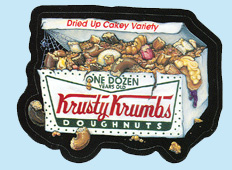 March 2005
Neil Camera
Neil Camera
Art Stages

Rough Concept Drawing
Neil Camera's "Krispy Kreme" spoof underwent minor changes en route to the final painting stage. On the rough drawing, the line "One Dozen Years Old" is small and positioned to the right of the logo in the drawing, and the text "Dried Up Cakey Variety" does not appear on the lid flap. Also, the sketch shows two possible positions for the box lid.

Camera's original Krusty Krumbs rough was sold for $432.00 in a Topps Vault auction which ran from April 17-24, 2005.
Final Painting
A comparison of the finished art to the printed sticker shows two small differences: several of the crumbs on the right side of the box are missing on the sticker, and the outside edge of the black border was altered before printing to make it more ragged.

The Topps Vault sold the finished art for "Krusty Krumbs" for $1,358.33 in an eBay auction which ran from November 15-22, 2005.
Printed Sticker

Card Front & Back
The checklist of the base set of 55 ANS2 stickers is found on the back of "Krusty Krumbs."
Connections

Unused ANS2 Concepts:
"Kreepy Kreme", "Krazy Kreme"
These two Krispy Kreme parody concepts, both by David Gross, were not chosen for inclusion in ANS2.

Silly Supermarket Sticker:
"Krusty Kreme"
Top Shelf Enterprises issued "Krusty Kreme" promotional stickers beginning in February 2005, about a month prior to the release of ANS2. The "Krusty" promos advertised Silly Supermarket Stickers series 3, a Wacky-like set of 30 cards that went on sale in the Fall of 2005.