The Annotated Wacky Packages All-New Series 2
Base Set Cards
18. FedUp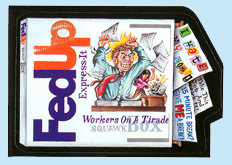 March 2005
FedEx shipping box
David Gross
David Gross
"FedUp" also appears in ANS2 as a web site parody on the back of the "Bling Dings" card.
Art Stages
Final Painting
One of the papers thrown by the disgruntled worker reads "TPS"; this is an allusion to the "TPS report" that aggravates the main character in the movie Office Space.

The Topps Vault sold the finished art for "FedUp" for $3572.22 in an eBay auction which ran from February 2-9, 2006.
Printed Sticker


Card Front & Back
The Top Right (TR) piece of the "Bling Dings" puzzle is found on the back of "FedUp."
Connections
"FedUp with Boys"
A line of vending stickers from Flatline Corp. called "Boy Bash" included this spin on the FedEx logo, circa 2001.